Smudge
are one of my favourite Australian bands from the 90s - as one of the main bands on
Half A Cow
(the greatest record label Sydney's ever produced), they won me over with their brilliant album titles, brilliant lyrics (courtesy of sometimes-Lemonhead Tom Morgan) and, of course, their brilliant tunes which went from rockin' pop songs to head-on indie. It's hard to go wrong with a band who write a song called "Mike Love Not War" and have similarly Beach Boys inspired single art to match: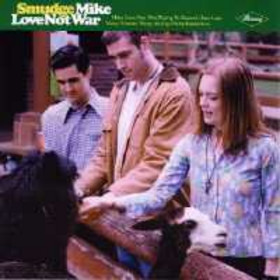 Of course, let's not forget early single "Don't Want to Be Grant McLennan", which, while acting as something of a tribute to The Go-Betweens, didn't impress the now deceased all that much. Tom Morgan also wrote "The Outdoor Type", a song The Lemonheads took to the world, no doubt to many nodding heads. It's one of my favourite songs in the world, with its smart lyrics about really just wanting to stay inside.
The last I heard from them was back in about 1998, with their "Real McCoy, Wrong Sinatra" disc, and, being an impressionable 14 year old at the time, I wanted to learn how to play drums so I could be as cool as Alison Galloway. But, just when I, and many others, had thought they'd gone forever, it turns out their back! And they're playing in Brisbane in October! The worst part about it? Smudge are playing at a truly awful
Australian music festival
, where most bands represent all that I dislike in Oz music. Dilemma! I don't want to pay $70 for a half-hour Smudge set at 2pm, yet I don't want to miss seeing them. Oh, woe! I might just have to do by listening to 'Manilow' (which you can handily buy, along with much of their back catalogue, from
here
!).